5'2″ / 110 lbs

32B-25-31

Brown / Brown

28 Years Old
This Adriana Chechik biography showcases several of the incredible attributes of this truly attractive hottie.
Nothing turns on Adriana Chechik more than the thrill of knowing someone might catch her in a compromising position, which is why this hottie claims her ultimate fantasy is to film a scene where she gets shagged right in the middle of main street. This tramp sex-kitten brags that she once had sex in a movie theater full of people, sitting reverse cowgirl on her man's lap until he came on her back.
A dedicated lesbian lover, what Adriana likes most about other babes is how intense and involved sex can be, and how incredible her orgasms become.
Adriana likes to keep in shape by jumping back onto the pole, so you know that she's still as flexible as ever, and still has all her old moves. She's been working hard to establish herself as one of the smut world's freakiest, horniest, and dirtiest female performers. This sassy starlet has the juicy body, gorgeous face, and horny sex drive it takes to be deemed one of the best pornstar strippers.
So if you're aching to see this lusty hottie take care of her own needs on screen, don't miss her ultra juicy sex scenes.
Best Petite Pornstar Strippers
,
Best Squirting Pornstar Strippers
, and
Hottest Brunette Pornstar Strippers
.
Adriana Chechik Biography Summary
Adriana Chechik was born in Downington, Pennsylvania on 4/Nov/1991 which makes her a Scorpio. Her measurements are 32B-25-31, she weighs in at 110 lbs (50 kg) and stands at 5'2″ (157 cm). Her body is slim with real/natural 32B perfect tits. She has bright brown eyes and thick brown hair.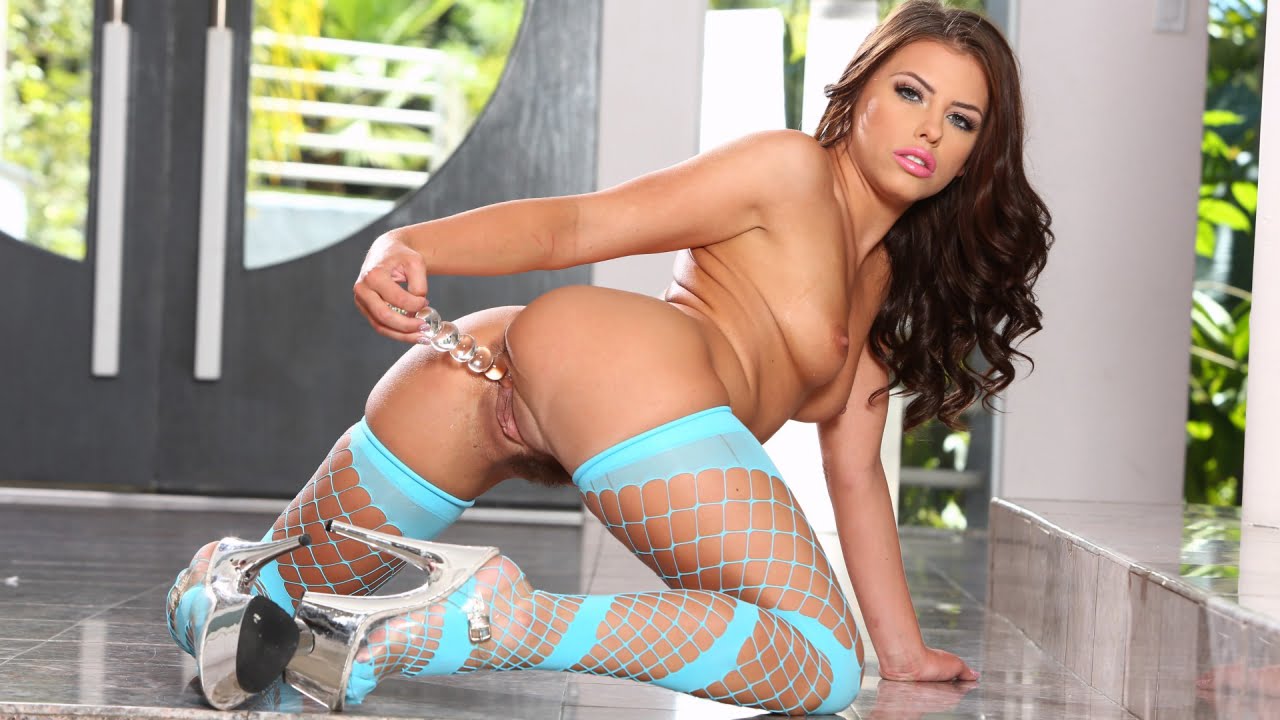 2022 Award Wins and Nominations
AVN Awards – Nominee: Best Anal Sex Scene, Adriana Chechik Lets A Big Dick Stretch and Stuff Her Oily Holes (2021)
AVN Awards – Nominee: Best Double Penetration Sex Scene, DP Masters 7 (2020)
2021 Award Wins and Nominations
AVN Awards – Nominee: Best All-Girl Group Sex Scene, Squirt On Me (2019)
AVN Awards – Nominee: Best Anal Sex Scene, Anal Destruction 8 (2020)
AVN Awards – Winner: Best Gangbang Scene, Adriana Chechik's Extreme Gangbang (2020)
AVN Awards – Nominee: Best Group Sex Scene, Muse Season 1 (2020)
AVN Awards – Nominee: Best Group Sex Scene, BadBitches (2019)
AVN Awards – Nominee: Best Supporting Actress, Muse Season 1 (2020)
AVN Awards – Nominee: Best Three-Way Sex Scene: G/G/B, Between Besties (2020)
AVN Awards – Winner: Best Transgender Group Sex Scene, Stay Gold (2019)
AVN Awards – Nominee: Best Virtual Reality Sex Scene, Longest Ride with Adriana Chechik (2020)
AVN Awards – Nominee: Fan Award: Favorite Female Porn Star
AVN Awards – Nominee: Female Performer of the Year
AVN Awards – Nominee: Most Outrageous Sex Scene
Fleshbot Awards (Straight) – Nominee: Best Oral Scene, Kianna Dior and Adriana Chechik: BJ 3Way (2021)
Nightmoves – Nominee: Best Female Performer
Nightmoves Fan Awards – Winner: Best Fetish Performer
Transgender Erotica Awards Show – Nominee: Best Non-TS Performer (Female)
XBiz Awards – Nominee: Best Acting – Supporting, Muse Season 1 (2020)
XBiz Awards – Winner: Best Sex Scene – Feature Movie, Muse Season 1 (2020)
XBiz Awards – Nominee: Best Sex Scene – Trans, Transfixed 6 (2020)
XRCO Awards – Nominee: Awesome Analist
XRCO Awards – Nominee: Female Performer of the Year
XRCO Awards – Nominee: Orgasmic Oralist
XRCO Awards – Nominee: Superslut
2020 Award Wins and Nominations
AVN Awards – Nominee: Best Double Penetration Sex Scene, Double Dose (2019)
AVN Awards – Nominee: Best Foreign-Shot All-Girl Sex Scene, Dangerous Women (2019)
AVN Awards – Winner: Best Oral Sex Scene, Swallowed 29 (2019)
AVN Awards – Nominee: Best Solo/Tease Performance, Center of Attention (2019)
AVN Awards – Nominee: Fan Award: Favorite Female Porn Star
AVN Awards – Nominee: Fan Award: Social Media Star
AVN Awards – Nominee: Female Performer of the Year
Fleshbot Awards (Straight) – Nominee: Best Premium Social Media Star — Female
Spank Bank Awards – Nominee: Amazing Anal Artist of the Year
Spank Bank Awards – Nominee: Best All Around Porn Goddess
Spank Bank Awards – Nominee: Best Vocals
Spank Bank Awards – Nominee: Bewitching Brunette of the Year
Spank Bank Awards – Nominee: Big Dick Adventurist of the Year
Spank Bank Awards – Nominee: Deepest Throat
Spank Bank Awards – Winner: DP Dynamo of the Year
Spank Bank Awards – Winner: Hardest Working Ho in Ho Biz
Spank Bank Awards – Nominee: Indestructible Butthole Superstar
Spank Bank Awards – Nominee: Most Awe Inspiring Gape
Spank Bank Awards – Nominee: Most Comprehensive Utilization of All Orifices
Spank Bank Awards – Nominee: Oral Authority of the Year
Spank Bank Awards – Nominee: Princess of the Piledriver
Spank Bank Awards – Nominee: Rough Sex Specialist
Spank Bank Awards – Nominee: Size Queen
Spank Bank Awards – Nominee: Super Squirter of the Year
Spank Bank Awards – Nominee: The Dirtiest Player in the Game
Spank Bank Awards – Nominee: The Dirty Little Slut of the Year (Female Performer of the Year)
Spank Bank Awards – Nominee: The Most Fapped To Girl of the Year
Spank Bank Awards – Winner: The Sexiest Woman Alive
Spank Bank Awards – Nominee: The Total Package
Spank Bank Technical Awards – Winner: The G.O.A.T. of Nasty
Transgender Erotica Awards Show – Nominee: Best Non-TS Female Performer
XBiz Awards – Nominee: Best Actress – Erotic-Themed Movie, Cold Night In December (2019)
XBiz Awards – Nominee: Best Sex Scene – Erotic-Themed, Cold Night In December (2019)
XBiz Awards – Nominee: Best Sex Scene – Gonzo, Adriana Chechik: The Ultimate Slut 2 (2019)
XBiz Awards – Nominee: Female Performer of the Year
XBIZ Europa Awards – Nominee: Best Sex Scene – Glamcore, Nuit a… 1: Paris (2019)
XBIZ Europa Awards – Nominee: Best Sex Scene – Lesbian, Nuit a… 1: Paris (2019)
XCritic Awards – Nominee: Best Female Performer
XRCO Awards – Nominee: Female Performer of the Year
XRCO Awards – Nominee: Orgasmic Analist of the Year
XRCO Awards – Nominee: Orgasmic Oralist of the Year
XRCO Awards – Nominee: Superslut of the Year
2019 Award Wins and Nominations
AVN Awards – Nominee: Best Actress – Feature Movie, Star Wars: the Last Temptation (2017)
AVN Awards – Nominee: Best Anal Sex Scene, Anal Nymphos Anal Legends 2 (2017)
AVN Awards – Nominee: Best Double Penetration Sex Scene, DP Masters 6 (2018)
AVN Awards – Nominee: Best Foreign-Shot All-Girl Sex Scene, Star Wars: the Last Temptation (2017)
AVN Awards – Nominee: Best Foreign-Shot Group Sex Scene, Star Wars: the Last Temptation (2017)
AVN Awards – Nominee: Best Group Sex Scene, Fuck Club (2018)
AVN Awards – Nominee: Best Three-Way Sex Scene: G/G/B, After Dark (2018)
AVN Awards – Nominee: Best Virtual Reality Sex Scene, Grangerous Liaisons (2018)
AVN Awards – Nominee: Female Performer of the Year
AVN Awards – Nominee: Most Outrageous Sex Scene, Summer Sluts 2 (2018)
Nightmoves – Nominee: Best Actress
Nightmoves – Nominee: Best Adult Star Feature Dancer
Nightmoves – Nominee: Best Body
Nightmoves – Nominee: Best Female Performer
PornHub Awards – Nominee: All At The Same Damn Time Top DP Performer
PornHub Awards – Nominee: Back Door Beauty Top Anal Performer
PornHub Awards – Winner: Best Snapchat
PornHub Awards – Nominee: Most Popular Female Performer
PornHub Awards – Nominee: Most Popular Female Pornstar By Women
PornHub Awards – Nominee: Splash Zone Top Squirting Performer
Spank Bank Awards – Nominee: Amazing Anal Artist of the Year
Spank Bank Awards – Nominee: Best All Around Porn Goddess
Spank Bank Awards – Nominee: Bewitching Brunette of the Year
Spank Bank Awards – Winner: Deepest Throat
Spank Bank Awards – Nominee: DP Dynamo of the Year
Spank Bank Awards – Nominee: Hardest Working Ho in Ho Biz
Spank Bank Awards – Nominee: Indestructable Butthole
Spank Bank Awards – Winner: Most Comprehensive Utilization of All Orifices
Spank Bank Awards – Nominee: Most Enthusiastic Fuck Bunny
Spank Bank Awards – Nominee: My (Wet) Dream Girl
Spank Bank Awards – Nominee: Size Queen
Spank Bank Awards – Nominee: Super Squirter of the Year
Spank Bank Awards – Nominee: The Dirtiest Player in the Game
Spank Bank Awards – Nominee: The Dirty Little Slut of the Year (FPOTY)
Spank Bank Awards – Winner: The Most Fapped To Girl of the Year
Spank Bank Awards – Nominee: The Sexiest Woman Alive
Spank Bank Awards – Nominee: The Total Package
Spank Bank Awards – Nominee: Three Kielbasas in a Corridor (Triple Anal Pundit)
Spank Bank Awards – Nominee: Two Hot Dogs in a Hallway (Double Anal Prodigy)
Transgender Erotica Awards Show – Nominee: Best Girl-Girl Scene, Trans-Visions 13 (2018)
XBiz Awards – Nominee: Best Actress – Feature Movie, Star Wars: the Last Temptation (2017)
XBiz Awards – Nominee: Best Sex Scene – Feature Movie, Star Wars: the Last Temptation (2017)
XBiz Awards – Winner: Best Sex Scene – Vignette Release, After Dark (2018)
XBiz Awards – Nominee: Best Sex Scene – Virtual Reality, Wet Adventures (2018)
XBiz Awards – Nominee: Female Performer of the Year
XBIZ Europa Awards – Nominee: Best Actress, Dangerous Women (2019)
XRCO Awards – Nominee: Awesome Analist
XRCO Awards – Nominee: Female Performer of the Year
XRCO Awards – Winner: Superslut
2018 Award Wins and Nominations
AVN Awards – Nominee: Best All-Girl Group Sex Scene, Performers of the Year 2017 (2017)
AVN Awards – Nominee: Best Anal Sex Scene, Adriana Chechik is the Extreme Anal Queen (2017)
AVN Awards – Nominee: Best Double Penetration Sex Scene, Cuckold Sessions: Adriana Chechik (2017)
AVN Awards – Nominee: Best Group Sex Scene, Adriana Chechik Is the Squirt Queen (2017)
AVN Awards – Nominee: Best Transsexual Sex Scene, Adriana Chechik Is the Squirt Queen (2017)
AVN Awards – Nominee: Best Virtual Reality Sex Scene, Zombie Slayers (2016)
AVN Awards – Nominee: Female Performer of the Year
AVN Awards – Nominee: Most Outrageous Sex Scene, Big Messy Gangbang (2017)
Nightmoves – Nominee: Best Adult Star Feature Dancer
Nightmoves – Nominee: Best Body
Nightmoves – Nominee: Best Female Performer
Spank Bank Awards – Nominee: Airtight Angel of the Year
Spank Bank Awards – Nominee: Amazing Anal Artist of the Year
Spank Bank Awards – Winner: ATM Machine
Spank Bank Awards – Nominee: Best All Around Porn Goddess
Spank Bank Awards – Nominee: Best DSL (Dick Sucking Lips)
Spank Bank Awards – Nominee: Bionic Butthole
Spank Bank Awards – Winner: Cuckold Queen of the Year
Spank Bank Awards – Nominee: Deepest Throat
Spank Bank Awards – Nominee: Facial Cum Target of the Year
Spank Bank Awards – Nominee: Gangbanged Girl of the Year
Spank Bank Awards – Nominee: Hardest Working Ho in Ho Biz
Spank Bank Awards – Nominee: Most Comprehensive Utilization of All Orifices
Spank Bank Awards – Nominee: Most Energetic Fuck Bunny
Spank Bank Awards – Nominee: Oral Authority of the Year
Spank Bank Awards – Nominee: Snapchat Sweetheart of the Year
Spank Bank Awards – Winner: Super Squirter of the Year
Spank Bank Awards – Nominee: The Dirtiest Player in the Game
Spank Bank Awards – Nominee: The Most Spanked To Girl of the Year
Spank Bank Awards – Nominee: The Sexiest Woman Alive
Spank Bank Awards – Nominee: Two Hot Dogs in a Hallway (Double Anal Prodigy)
Spank Bank Technical Awards – Winner: The Gold Standard Of Glorious Nastiness
Transgender Erotica Awards Show – Nominee: Best Non-TS Performer
Transgender Erotica Awards Show – Nominee: Best Scene, Adriana Chechik Is the Squirt Queen (2017)
XBiz Awards – Nominee: Best Sex Scene – Comedy Release, Bad Babes Inc. (2017)
XBiz Awards – Nominee: Best Sex Scene – Vignette Release, Crossing Borders (2017)
XBiz Awards – Nominee: Female Performer of the Year
XCritic Awards – Nominee: Best Actress, Star Wars: the Last Temptation (2017)
2017 Award Wins and Nominations
AVN Awards – Nominee: Best Anal Sex Scene, Gape Tryouts (2015)
AVN Awards – Nominee: Best Double Penetration Sex Scene, Adriana Chechik: The Ultimate Slut (2015)
AVN Awards – Nominee: Best Group Sex Scene, Adriana Chechik: The Ultimate Slut (2015)
AVN Awards – Winner: Best Oral Sex Scene, Adriana Chechik: The Ultimate Slut (2015)
AVN Awards – Nominee: Best Supporting Actress, Color Blind (2016)
AVN Awards – Nominee: Best Three-Way Sex Scene: G/G/B, Latina Squirt Goddess (2016)
AVN Awards – Winner: Female Performer of the Year
AVN Awards – Winner: Most Outrageous Sex Scene, Holly Hendrix's Anal Experience (2016)
Spank Bank Awards – Nominee: Airtight Angel of the Year
Spank Bank Awards – Winner: Asshole (The Sexy Kind) of the Year
Spank Bank Awards – Nominee: ATM Machine
Spank Bank Awards – Nominee: Bad Ass Brunette of the Year
Spank Bank Awards – Nominee: BBC Slut of the Year
Spank Bank Awards – Nominee: Best DSL (Dick Sucking Lips)
Spank Bank Awards – Nominee: Bionic Butthole
Spank Bank Awards – Nominee: Dirty Little Slut of the Year
Spank Bank Awards – Nominee: Gangbanged Girl of the Year
Spank Bank Awards – Nominee: Hardest Working Ho in Ho Biz
Spank Bank Awards – Nominee: Most Awe Inspiring Gape
Spank Bank Awards – Nominee: Most Comprehensive Utilization of All Orifices
Spank Bank Awards – Winner: Most Spanked To Girl of the Year
Spank Bank Awards – Nominee: My (Wet) Dream Girl
Spank Bank Awards – Nominee: Sexiest Woman Alive
Spank Bank Awards – Nominee: Snapchat Sweetheart of the Year
Spank Bank Awards – Nominee: Super Squirter of the Year
Spank Bank Awards – Winner: The Dirtiest Player in the Game
Spank Bank Awards – Nominee: The Total Package
Spank Bank Technical Awards – Winner: Celebrity Macaroni and Cheese Endorser
XBiz Awards – Nominee: Best Supporting Actress, Color Blind (2016)
XBiz Awards – Nominee: Female Performer of the Year
XRCO Awards – Nominee: Female Performer of the Year
XRCO Awards – Nominee: Orgasmic Analist of the Year
XRCO Awards – Nominee: Orgasmic Oralist of the Year
2016 Award Wins and Nominations
AVN Awards – Nominee: Best Actress, Turning: A Lesbian Horror Story (2015)
AVN Awards – Nominee: Best All-Girl Group Sex Scene, Turning: A Lesbian Horror Story (2015)
AVN Awards – Nominee: Best Anal Sex Scene, Brunettes Go Black (2015)
AVN Awards – Nominee: Best Group Sex Scene, Adriana's a Slut (2015)
AVN Awards – Nominee: Best Group Sex Scene, Mick Blue is One Lucky Bastard (2014)
AVN Awards – Nominee: Best Group Sex Scene, Orgy Masters 7 (2015)
AVN Awards – Nominee: Best Oral Sex Scene, Adriana Chechick and Karmen Karma's Through The Jeans BJ (2015)
AVN Awards – Nominee: Best Three-Way Sex Scene: G/G/B, Adriana's a Slut (2015)
AVN Awards – Winner: Best Transsexual Sex Scene, TS Playground 21 (2015)
AVN Awards – Nominee: Fan Award: Favorite Female Porn Star
AVN Awards – Nominee: Fan Award: Social Media Star
AVN Awards – Nominee: Female Performer of the Year
Spank Bank Awards – Nominee: Asshole (The Sexy Kind) of the Year
Spank Bank Awards – Nominee: ATM Machine
Spank Bank Awards – Nominee: Bad Ass Brunette of the Year
Spank Bank Awards – Nominee: BBC Slut of the Year
Spank Bank Awards – Winner: Best High Speed DSL (Dick Sucking Lips)
Spank Bank Awards – Nominee: Bionic Butthole
Spank Bank Awards – Nominee: Cocksucker of the Year
Spank Bank Awards – Nominee: Deepest Throat
Spank Bank Awards – Nominee: Dirty Little Slut of the Year
Spank Bank Awards – Nominee: Gangbanged Princess of the Year
Spank Bank Awards – Nominee: Hardest Working Ho in Ho Biz
Spank Bank Awards – Winner: Most Comprehensive Utilization of All Orifices
Spank Bank Awards – Nominee: Most Spanked To Girl of the Year
Spank Bank Awards – Nominee: Sexiest Woman Alive
Spank Bank Awards – Nominee: Super Squirter of the Year
Spank Bank Awards – Winner: The Dirtiest Player in the Game
Spank Bank Awards – Nominee: Two Hot Dogs in a Hallway
Spank Bank Awards – Nominee: Wet Dream Girl
Spank Bank Technical Awards – Winner: The Slut Supreme
Spank Bank Technical Awards – Winner: Triple Penetration Expert
XBiz Awards – Nominee: Best Actress – All-Girl Release, Turning: A Lesbian Horror Story (2015)
XBiz Awards – Nominee: Best Scene – All-Girl, Karma's A Bitch (2015)
XBiz Awards – Nominee: Best Scene – All-Girl, Buttslammers (2015)
XBiz Awards – Nominee: Best Scene – All-Sex Release, Adriana's a Slut (2015)
XBiz Awards – Nominee: Female Performer of the Year
XRCO Awards – Winner: Female Performer of the Year
XRCO Awards – Nominee: Orgasmic Analist of the Year
XRCO Awards – Nominee: Orgasmic Oralist of the Year
XRCO Awards – Winner: Superslut of the Year
2015 Award Wins and Nominations
AVN Awards – Winner: Best Anal Sex Scene, Internal Damnation 8 (2014)
AVN Awards – Nominee: Best Girl/Girl Sex Scene, Mother Daughter Thing (2014)
AVN Awards – Nominee: Best Group Sex Scene, This Is My First… A Gangbang Movie (2013)
AVN Awards – Nominee: Best Solo/Tease Performance, I Love Big Toys 39 (2014)
AVN Awards – Nominee: Best Three-Way Sex Scene: G/G/B, Allie (2014)
AVN Awards – Nominee: Fan Award: Favorite Female Porn Star
AVN Awards – Nominee: Female Performer of the Year
AVN Awards – Winner: Most Outrageous Sex Scene, Gangbang Me (2014)
Nightmoves – Winner: Best Body
Nightmoves Fan Awards – Nominee: Best Body
Spank Bank Awards – Nominee: Asshole (The Sexy Kind) of the Year
Spank Bank Awards – Nominee: Best "O" Face
Spank Bank Awards – Nominee: Best All Around Porn Goddess
Spank Bank Awards – Nominee: Best Vocals
Spank Bank Awards – Winner: Breakthrough Star of the Year
Spank Bank Awards – Nominee: Cocksucker of the Year
Spank Bank Awards – Nominee: Gangbanged Princess of the Year
Spank Bank Awards – Nominee: Hardest Working Ho in Ho Biz
Spank Bank Awards – Winner: Most Comprehensive Utilization of All Orifices
Spank Bank Awards – Nominee: Most Spanked To Girl of the Year
Spank Bank Awards – Nominee: The Contessa of Cum
Spank Bank Awards – Nominee: Two Hot Dogs in a Hallway
Spank Bank Technical Awards – Winner: Bottomless Butthole
Spank Bank Technical Awards – Winner: Most Downloaded Star of the Year
Spank Bank Technical Awards – Winner: Triple (Penetration) Threat
XBiz Awards – Nominee: Best Scene – All-Girl, Paint (2014)
XBiz Awards – Winner: Best Scene – Non-Feature Release, Gangbang Me (2014)
XBiz Awards – Nominee: Female Performer of the Year
XRCO Awards – Nominee: Female Performer of the Year
XRCO Awards – Nominee: Orgasmic Analist of the Year
XRCO Awards – Winner: Superslut of the Year
2014 Award Wins and Nominations
AVN Awards – Nominee: Best Boy/Girl Sex Scene, Innocence of Youth 5 (2013)
Spank Bank Awards – Nominee: Breakout Star of the Year
Spank Bank Awards – Nominee: Dirty Little Slut of the Year
Spank Bank Awards – Nominee: Fetish Virtuoso of the Year
Spank Bank Awards – Nominee: Fucking Nerd of the Year
Spank Bank Awards – Nominee: Newcummer of the Year
Spank Bank Awards – Nominee: Porn's Next "It" Girl
Spank Bank Awards – Nominee: The Girl Next Door … Only Better
The Fannys – Nominee: New Starlet of the Year
TLA RAW Awards – Nominee: Best Female Newcomer
XBiz Awards – Nominee: Best New Starlet
XBiz Awards – Nominee: Best Scene – Parody Release, Grease XXX: A Parody (2013)
XRCO Awards – Nominee: Cream Dream of the Year
2013 Award Wins and Nominations
Sex Awards – Nominee: Hottest New Girl
Adriana Chechik Biography References