5'8″ / 121 lbs

30B-24-35

Blond / Brown

27 Years Old
This Cherry Kiss biography showcases many of the awesome qualties of this positively exquisite babe.
Who doesn't wish they could have a smut star all to themselves, especially one like Cherry Kiss. From her big eye-catching tits down to her incredible luscious thighs, Cherry is pure heat from head to toe.
While talent and skill in the art of banging comes easily to a nympho like her, she definitely enjoys getting in as much practice as she can.
Cherry admits she can't get enough booty, the deeper the better, and she's obsessed with eating cum. Of course, she also has a firm booty and sexy long legs, not to mention her pretty little pink snatch that just did not seems to get enough dick. Cherry Kiss is one of the finest pornstars in the business today, and all you have got to do is watch one of her scenes to find out the reason she belongs on the best pornstar strippers list.
Whatever the action, this girl is more than happy to give.
Over 8 years, and 675 porn sex scenes later, Cherry Kiss is still eager to suck some more cock, and lick some more pussy.
Cherry Kiss Biography Summary
Cherry Kiss was born in Serbia on 31/Dec/1992 which makes her a Capricorn. Her measurements are 30B-24-35, she weighs in at 121 lbs (55 kg) and stands at 5'8″ (173 cm). Her body is slim with real/natural 34B beautiful tits. She has sexy brown eyes and silky blond hair.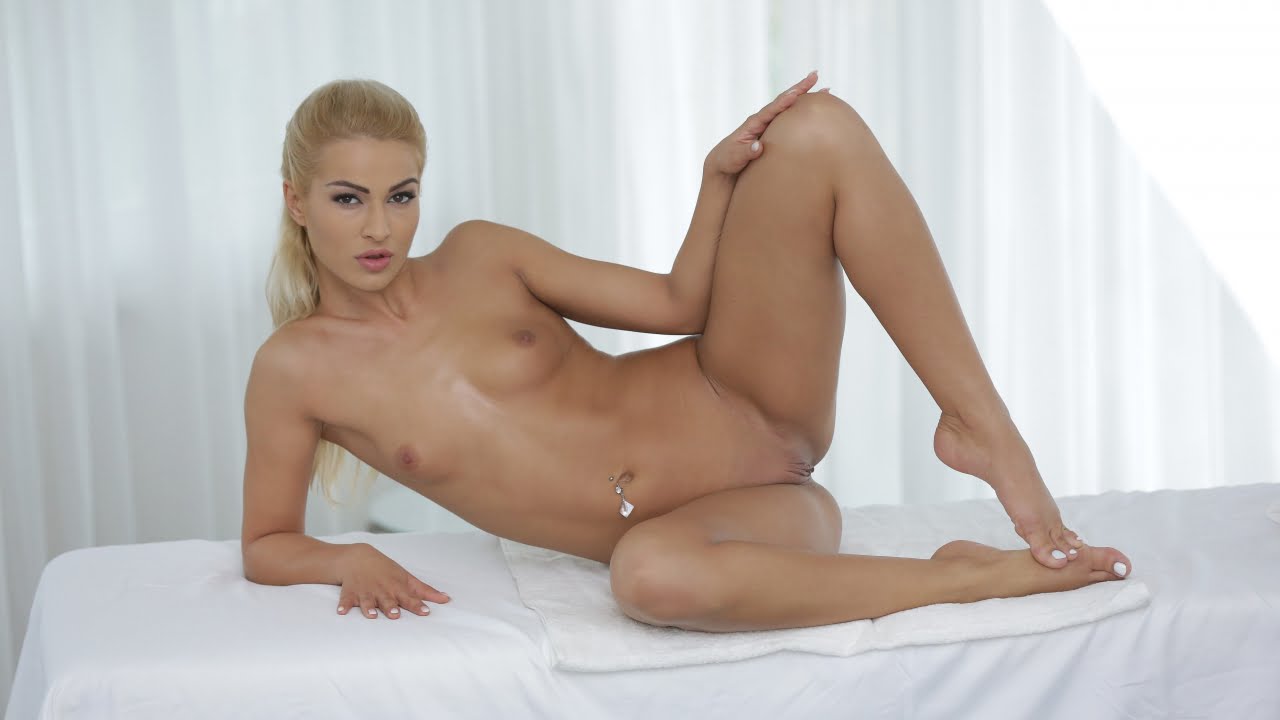 2022 Award Wins and Nominations
AVN Awards – Nominee: Best International Group Sex Scene, Cherry's Anal Beauties (2021)
AVN Awards – Nominee: Best International Lesbian Sex Scene, Russian Institute 27: Pool Party (2020)
AVN Awards – Nominee: International Female Performer of the Year
2021 Award Wins and Nominations
AVN Awards – Nominee: Best Foreign-Shot All-Girl Sex Scene, Life in a Glass (2020)
AVN Awards – Nominee: Best Foreign-Shot Anal Sex Scene, Anal Virtue (2020)
AVN Awards – Nominee: Best Foreign-Shot Boy/Girl Sex Scene, Pool Session (2020)
AVN Awards – Nominee: Female Foreign Performer of the Year
XBiz Europa Awards – Nominee: Best Sex Scene – Lesbian, Alone At Last (2021)
XBiz Europa Awards – Nominee: Best Sex Scene – Lesbian, Cherry's Anal Beauties (2021)
XBiz Europa Awards – Nominee: Best Sex Scene – Lesbian, Russian Institute 27: Pool Party (2020)
XRCO Awards – Nominee: Awesome Analist
2020 Award Wins and Nominations
AVN Awards – Nominee: Best Foreign-Shot Boy/Girl Sex Scene, I Am Sex: Cherry Kiss (2019)
AVN Awards – Nominee: Best Foreign-Shot Group Sex Scene, Lucy, la Nouvelle Secretaire (2018)
AVN Awards – Nominee: Best POV Sex Scene, Gorgeous Football Hooligan Cherry Kiss Has Her Way With Rival Fan (2019)
AVN Awards – Nominee: Female Foreign Performer of the Year
Spank Bank Awards – Nominee: Amazing Anal Artist of the Year
Spank Bank Awards – Nominee: Best Legs
Spank Bank Awards – Nominee: Blowbang / Bukkake Badass of the Year
Spank Bank Awards – Nominee: Breathtaking Blonde of the Year
Spank Bank Awards – Winner: European Enchantress of the Year
Spank Bank Awards – Nominee: Life Sized Human Hand Puppet (Best Fistee)
Spank Bank Awards – Nominee: My (Wet) Dream Girl
Spank Bank Awards – Nominee: Prettiest 'Whore Mouth'
Spank Bank Awards – Nominee: The Sexiest Woman Alive
Spank Bank Awards – Nominee: Two Peas in a Pod (Double Vaginal Performer of the Year)
XBiz Awards – Nominee: Foreign Female Performer of the Year
XBIZ Europa Awards – Nominee: Best Sex Scene – Feature Movie, Private Gold 235: College Harlots: Back to School (2019)
XBIZ Europa Awards – Nominee: Best Sex Scene – Glamcore, Nuit a… 1: Paris (2019)
XBIZ Europa Awards – Nominee: Best Sex Scene – Glamcore, Nuit a… 2: Budapest (2019)
XBIZ Europa Awards – Nominee: Best Sex Scene – Glamcore, Sharing My Wife: Swingers Retreat (2019)
XBIZ Europa Awards – Nominee: Best Sex Scene – Gonzo, I Am Sex: Cherry Kiss (2019)
XBIZ Europa Awards – Nominee: Best Sex Scene – Gonzo, DP Bandits (2018)
XBIZ Europa Awards – Nominee: Best Sex Scene – Lesbian, Precious Moments 3 (2020)
XBIZ Europa Awards – Nominee: Best Sex Scene – Lesbian, Nuit a… 1: Paris (2019)
XBIZ Europa Awards – Nominee: Female Performer of the Year
XCritic Awards – Winner: Scene of the Year, My Name is Zaawaadi (2020)
2019 Award Wins and Nominations
AVN Awards – Nominee: Best Foreign-Shot Anal Sex Scene, Hot Girls With Nice Asses 2 (2018)
AVN Awards – Nominee: Best Foreign-Shot Boy/Girl Sex Scene, Soubrettes Services 10: Soubrettes a partager (2017)
AVN Awards – Nominee: Female Foreign Performer of the Year
GayVN – Nominee: Best Bi Sex Scene, Bi Surprise 3 (2018)
Spank Bank Awards – Nominee: Cumfartist of the Year
Spank Bank Awards – Nominee: European Enchantress of the Year
Spank Bank Awards – Nominee: Indestructable Butthole
Spank Bank Awards – Nominee: Life Sized Human Hand Puppet (Best Fistee)
Spank Bank Awards – Nominee: Most Comprehensive Utilization of All Orifices
Spank Bank Awards – Nominee: Two Peas in a Pod (Double Pussy Precisionist)
XBIZ Europa Awards – Nominee: Best Sex Scene – Feature Movie, Road Trip (2019)
XBIZ Europa Awards – Nominee: Best Sex Scene – Glamcore
XBIZ Europa Awards – Nominee: Best Sex Scene – Glamcore, Soubrettes Services 10: Soubrettes a partager (2017)
XBIZ Europa Awards – Nominee: Female Performer of the Year
2018 Award Wins and Nominations
AVN Awards – Nominee: Best Sex Scene in a Foreign-Shot Production, Erik Everhard Takes On Europe (2017)
AVN Awards – Nominee: Female Foreign Performer of the Year
Spank Bank Awards – Nominee: Airtight Angel of the Year
Spank Bank Awards – Nominee: Natural Born Cock Killer
XBiz Awards – Nominee: Foreign Female Performer of the Year
2015 Award Wins and Nominations
AVN Awards – Nominee: Best Sex Scene in a Foreign-Shot Production, Anissa Kate, la Veuve (2013)
Cherry Kiss Biography References