5'2″ / 110 lbs

32DD-24-36

Black / Hazel

27 Years Old
This Darcie Dolce biography highlights some of of the awesome qualties of this truly attractive doll.
She may have been a recluse in school, but these days Darcie Dolce loves being the center of attention.
Her enchanting young face and huge stunning eyes completely enchant anyone watching. She's got a perky little pair of titties that are the ideal size to suck on, and a nice round bubble butt that's enough to make you drool.
Her big fantastic eyes are seductive and beautiful, and seeing them peek up at you as she sucks your hard cock is a true thing of beauty. When Darcie has a little time to herself, she isn't doing the usual girly starlet duties of shopping and primping. Always ready for another round, this exotic hottie is one of the best pornstar strippers due to her display of her luscious tits and butt.
She loves to be watched and can be as slutty or as nice as you want.
Darcie Dolce Biography Summary
Darcie Dolce was born in Sacremento, CA, USA on 10/Dec/1992 which makes her a Sagittarius. Her measurements are 32DD-24-36, she weighs in at 110 lbs (50 kg) and stands at 5'2″ (157 cm). Her body is slim with real/natural 32E ripe tits. She has captivating hazel eyes and thick black hair.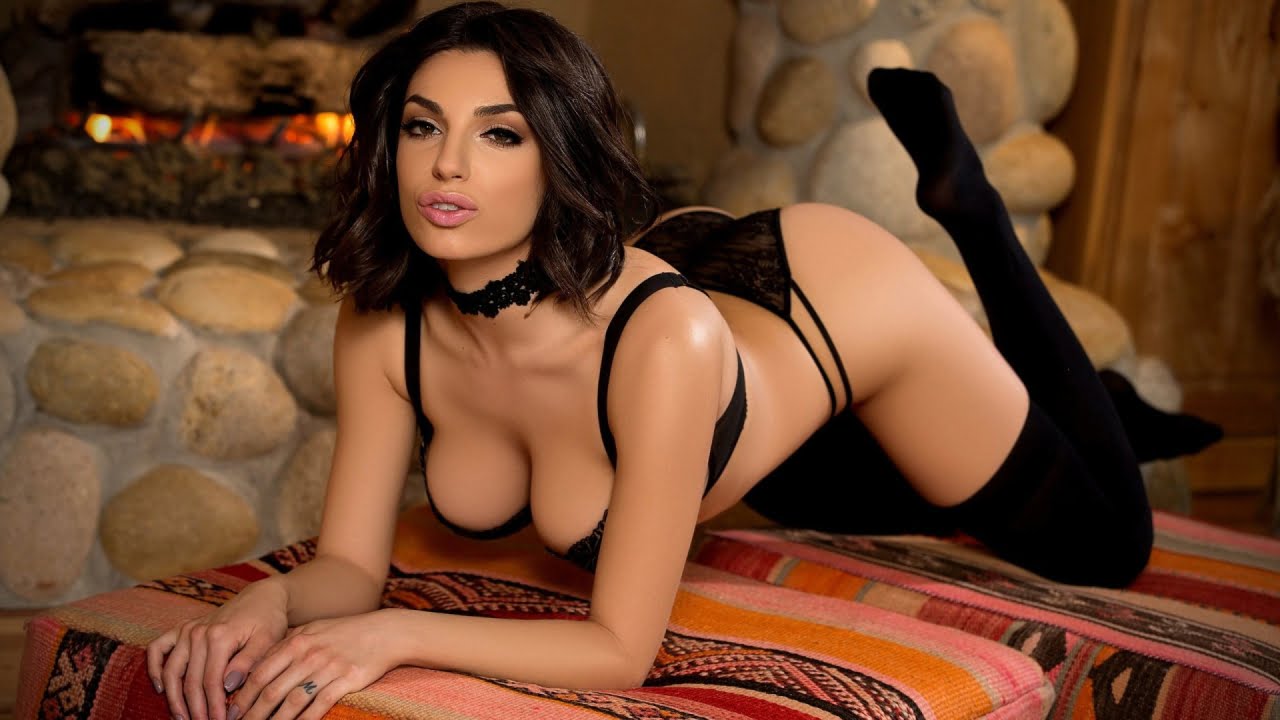 2021 Award Wins and Nominations
AVN Awards – Nominee: All-Girl Performer of the Year
2020 Award Wins and Nominations
AVN Awards – Nominee: All-Girl Performer of the Year
AVN Awards – Nominee: Fan Award: Most Spectacular Boobs
Spank Bank Awards – Nominee: Fantastic Face Sitter of the Year
Spank Bank Awards – Nominee: Lesbian Thespian of the Year
Spank Bank Awards – Nominee: Most Talented Tongue (Best Girl/Girl Kisser of the Year)
Spank Bank Awards – Nominee: Queen of Cunnilingus (Girl/Girl Star of the Year)
XBiz Awards – Nominee: Girl/Girl Performer of the Year
XRCO Awards – Nominee: Girl/Girl Performer of the Year
2019 Award Wins and Nominations
AVN Awards – Nominee: All-Girl Performer of the Year
Nightmoves – Nominee: Best Girl/Girl Performer
PornHub Awards – Nominee: Girl Who Likes Girls Top Lesbian Performer
Spank Bank Awards – Nominee: Excellence in Muff Maintenance (Best Groomed Bush)
Spank Bank Awards – Nominee: Finger Banging Phenom of the Year
Spank Bank Awards – Nominee: Most Voluptuous Vixen
Spank Bank Awards – Nominee: Queen of Cunnilingus (Girl/Girl Star of the Year)
Urban X Awards – Winner: Lesbian Performer of the Year
XBiz Awards – Nominee: Girl/Girl Performer of the Year
XRCO Awards – Nominee: Girl/Girl Performer of the Year
2018 Award Wins and Nominations
AVN Awards – Nominee: All-Girl Performer of the Year
AVN Awards – Nominee: Best All-Girl Group Sex Scene, Faces of Alice (2016)
AVN Awards – Nominee: Best Girl/Girl Sex Scene, Lesbian Performers Of The Year 2017 (2017)
Nightmoves – Nominee: Best Adult Star Feature Dancer
Nightmoves – Nominee: Best Body
Nightmoves – Nominee: Best Girl/Girl Performer
Spank Bank Awards – Nominee: Pussy Phenomenon of the Year
Spank Bank Awards – Nominee: Queen of Cunnilingus (Girl/Girl Star of the Year)
Spank Bank Awards – Nominee: Sensational Scissorist
XBiz Awards – Nominee: Best Sex Scene – All-Girl Release, She's Our Girlfriend Now (2017)
XBiz Awards – Winner: Girl/Girl Performer of the Year
2017 Award Wins and Nominations
AVN Awards – Nominee: All-Girl Performer of the Year
AVN Awards – Nominee: Best All-Girl Group Sex Scene, Darcie Dolce The Lesbian Landlord (2016)
AVN Awards – Nominee: Best Girl/Girl Sex Scene, Darcie Dolce The Lesbian Landlord (2016)
Spank Bank Awards – Nominee: Queen of Cunnilingus (Girl/Girl Star of the Year)
Spank Bank Awards – Nominee: Tightest Twat
XBiz Awards – Nominee: Best Sex Scene – All-Girl, Darcie Dolce The Lesbian Landlord (2016)
XBiz Awards – Nominee: Girl/Girl Performer of the Year
XRCO Awards – Nominee: Best Lesbian Performer
Darcie Dolce Biography References