5'3″ / 101 lbs

32A-24-28

Blond / Green

23 Years Old
This Elsa Jean biography highlights many of the incredible qualties of this truly gorgeous fox.
If you could get a degree in shooting saucy lesbians scenes, I'd give it to Elsa Jean. This babe loves being dominated and giving blowjobs, and states her mission is to spread peace and enjoy through her vagina.
It didn't take her long to find her niche, since this flexible fuckdoll can comfortably fit both ankles behind her head, all while wearing heels.
It wasn't long before photographers were calling, and she happily took the dive into getting spread and plundered. Elsa Jean keeps her body in fantastically fuckable shape by putting in time at the gym every day, and she has got the toned stomach, shapely thighs, and smooth skin to prove it. This playful suck cock doll has the hot physique, beautiful face, and insatiable sex drive it takes to be considered one of the best pornstar strippers.
So if you've ever dreamed of finding the kind of girl who will suck your cock and then cook you a nice hot meal after, look no further than Elsa.
Over 4 years, and 656 porn sex scenes later, Elsa Jean is still eager to ride some more dick, and stroke some more snatch.
Elsa Jean is featured on
Best Petite Pornstar Strippers
,
Hottest Blonde Pornstar Strippers
, and
Most Beautiful Pornstar Strippers
.
Elsa Jean Biography Summary
Elsa Jean was born in Canton, OH, USA on 1/Sep/1996 which makes her a Virgo. Her measurements are 32A-24-28, she weighs in at 101 lbs (46 kg) and stands at 5'3″ (160 cm). Her body is slim with real/natural 32A ripe tits. She has sexy green eyes and thick blond hair.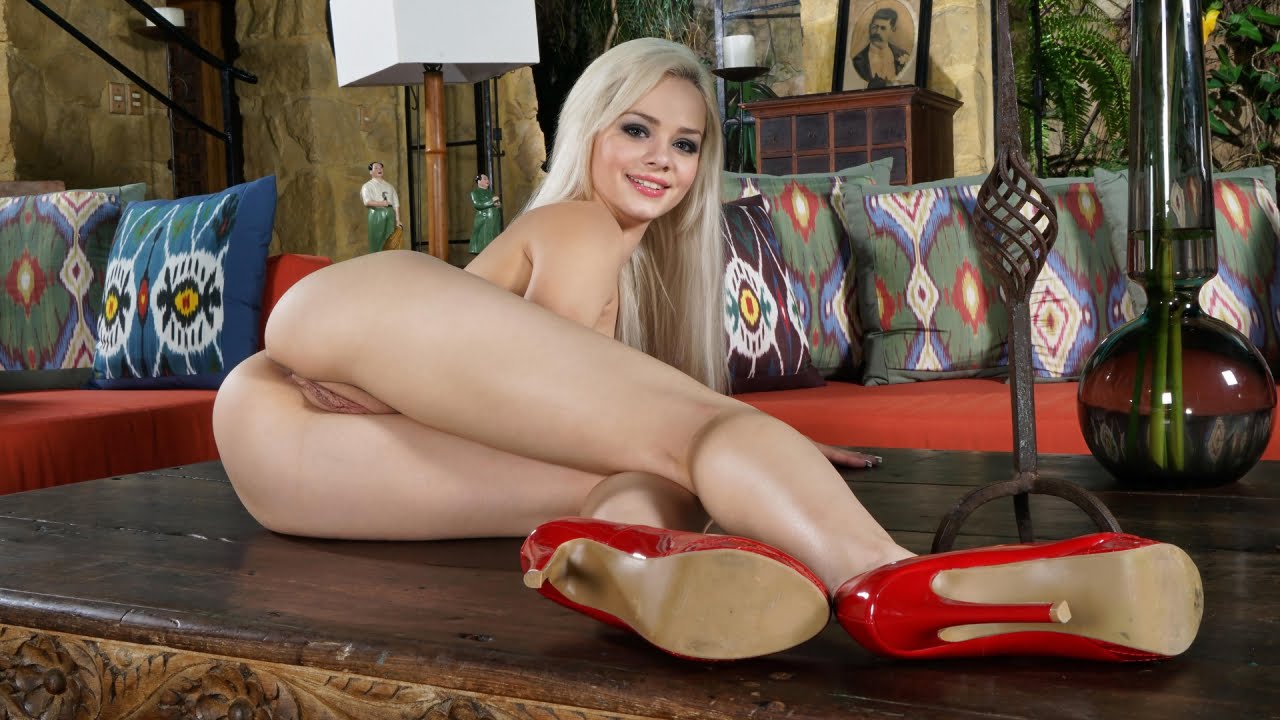 2022 Award Wins and Nominations
AVN Awards – Nominee: Best Anal Sex Scene, Blonde Ambition (2021)
AVN Awards – Nominee: Best Tag-Team Sex Scene, Blacked Raw V40 (2021)
2021 Award Wins and Nominations
AVN Awards – Nominee: Best Anal Sex Scene, Influence (2020)
AVN Awards – Winner: Best Girl/Girl Sex Scene, Influence (2020)
AVN Awards – Nominee: Best Star Showcase, Influence (2020)
AVN Awards – Nominee: Best Three-Way Sex Scene: G/G/B, My Sexy Roommate Vol 1 E3 (2019)
AVN Awards – Nominee: Fan Award: Favorite Female Porn Star
Fleshbot Awards (Straight) – Nominee: Best Fansite Presence
Fleshbot Awards (Straight) – Nominee: Female Performer of the Year
XRCO Awards – Winner: Star Showcase, Influence (2020)
2020 Award Wins and Nominations
AVN Awards – Nominee: Best POV Sex Scene, BBC POV (2019)
Fleshbot Awards (Straight) – Nominee: Female Performer of the Year
Spank Bank Awards – Nominee: America's Porn Sweetheart
Spank Bank Awards – Winner: Best Lips
Spank Bank Awards – Nominee: Breathtaking Blonde of the Year
Spank Bank Awards – Nominee: Fabulous Footjob Artisan of the Year
Spank Bank Awards – Nominee: Finger Banging Phenom of the Year
Spank Bank Awards – Nominee: Fun Sized (Spinner of the Year)
Spank Bank Awards – Nominee: Most Adorable Sexual Deviant
Spank Bank Awards – Nominee: Most Luscious Labia
Spank Bank Awards – Nominee: Phenomenal Pussy of the Year
Spank Bank Awards – Nominee: POV Perfectionist of the Year
Spank Bank Awards – Nominee: Spit Roasted Superstar of the Year
Spank Bank Technical Awards – Winner: Most Expensive Dog Toy Budget
XBiz Awards – Nominee: Best Sex Scene – Vignette, Sex Obsessed (2019)
2019 Award Wins and Nominations
AVN Awards – Nominee: Best Supporting Actress, Talk Derby To Me (2018)
AVN Awards – Nominee: Female Performer of the Year
Nightmoves – Nominee: Best Adult Star Feature Dancer
Nightmoves – Nominee: Best Female Performer
PornHub Awards – Winner: Nicest Pussy
Spank Bank Awards – Nominee: America's Porn Sweetheart
Spank Bank Awards – Nominee: Best Eyes
Spank Bank Awards – Nominee: Best Smile
Spank Bank Awards – Nominee: Best Supporting Mattress Actress
Spank Bank Awards – Nominee: Breathtaking Blonde of the Year
Spank Bank Awards – Nominee: Instagram Girl of the Year
Spank Bank Awards – Nominee: Lesbian Thespian of the Year
Spank Bank Awards – Winner: Masturbator of the Year
Spank Bank Awards – Nominee: Most Adorable Sexual Deviant
Spank Bank Awards – Nominee: Most Talented Tongue (Best Girl/Girl Kisser of the Year)
Spank Bank Awards – Nominee: Porn's 'It' Girl
Spank Bank Awards – Nominee: Pussy Phenomenon of the Year
Spank Bank Technical Awards – Winner: World's Sexiest Swedish Meatball Chef
XBiz Awards – Nominee: Best Actress – All-Girl Release, Becoming Elsa (2018)
XBiz Awards – Nominee: Best Sex Scene – All-Girl, Beautiful Strangers (2018)
XBiz Awards – Nominee: Best Sex Scene – All-Girl, Becoming Elsa (2018)
XBiz Awards – Nominee: Female Performer of the Year
XRCO Awards – Nominee: Teen Dream
2018 Award Wins and Nominations
AVN Awards – Winner: Best All-Girl Group Sex Scene, Best New Starlets 2017 (2017)
AVN Awards – Nominee: Best Supporting Actress, Nerds (2017)
AVN Awards – Nominee: Best Three-Way Sex Scene: G/G/B, Make it 3 (2017)
AVN Awards – Nominee: Female Performer of the Year
Nightmoves – Nominee: Most Underrated Female Performer
Nightmoves – Nominee: Social Media Star of the Year
Spank Bank Awards – Nominee: America's Porn Sweetheart
Spank Bank Awards – Nominee: Beautiful Blonde of the Year
Spank Bank Awards – Nominee: Best Smile
Spank Bank Awards – Nominee: Most Adorable Sexual Deviant
Spank Bank Awards – Nominee: Most Photogenic Nymphomaniac
Spank Bank Awards – Nominee: Pretty In Pink (Prettiest Pussy)
Spank Bank Awards – Nominee: Silky Smooth (Best Bald Beaver)
Spank Bank Awards – Nominee: Threesome Savant of the Year
Spank Bank Technical Awards – Winner: Friendly With Everyone …. Except Tequila
XBiz Awards – Nominee: Best Sex Scene – All-Girl Release, Girls That Like Girls (2017)
XBiz Awards – Nominee: Best Sex Scene – All-Sex Release, Who's Banging the Babysitter (2017)
XBiz Awards – Nominee: Best Sex Scene – Taboo Release, Slutty Stepsisters (2017)
XBiz Awards – Nominee: Best Sex Scene – Vignette Release, Sun-Lit (2017)
XBiz Awards – Nominee: Female Performer of the Year
XCritic Awards – Nominee: Best Female Performer
2017 Award Wins and Nominations
AVN Awards – Nominee: Best Group Sex Scene, Interracial Orgies (2016)
AVN Awards – Nominee: Best New Starlet
Spank Bank Awards – Winner: Best Smile
Spank Bank Awards – Nominee: Best Swallower
Spank Bank Awards – Nominee: Blonde Babe of the Year
Spank Bank Awards – Nominee: Born To Hand Job
Spank Bank Awards – Nominee: Most Fuckable Feet
Spank Bank Awards – Nominee: Most Talented Tongue (Best Girl/Girl Kisser of the Year)
Spank Bank Awards – Nominee: Natural Born Cock Killer
XBiz Awards – Winner: Best Scene – Vignette Release, All Natural Saints (2016)
XBiz Awards – Nominee: Best Sex Scene – All-Girl, Soft Touch 2 (2016)
XBiz Awards – Nominee: Female Performer of the Year
XRCO Awards – Nominee: New Starlet of the Year
2016 Award Wins and Nominations
AVN Awards – Nominee: Fan Award: Hottest Newcomer
Spank Bank Awards – Nominee: Most Adorable Slut
Spank Bank Awards – Nominee: Newcummer of the Year
Spank Bank Awards – Nominee: Porn's Next Superstar
Spank Bank Technical Awards – Winner: Barbie's Little Sister
XBiz Awards – Nominee: Best New Starlet
Elsa Jean Biography References