5'3″ / 114 lbs

32DD-25-34

Brown / Brown

25 Years Old
This Keisha Grey biography showcases many of the incredible attributes of this positively exquisite fox.
To get with tall, alluring, tramp Keisha Grey, it takes two things: confidence and dominance. Keisha's big boobs and competition-earning passion for fitness have propelled her to social media fame, and now she's looking to take over the smut biz.
Shapely, exotic, and alluring, with all sensual big tits and an awesome booty.
In fact, the only thing that Keisha is more passionate about than her furry buddies is getting shagged on film. When you combine a lust for throat-gagging action with a super-tight physique, you get Keisha Grey. Renowned for her amazing blowjob skills, watching this gorgeous lady give sloppy wet head to some of the biggest cocks on the planet is reason enough to understand the reason why she is one of the best pornstar strippers.
Make sure not to miss a single one of this sex-positive crazy queen's scenes.
She has been in the XXX scene for 6 years and has banged in over 664 porn scenes.
Keisha Grey is featured on
Best Petite Pornstar Strippers
,
Best Pornstar Boobs Strippers
,
Hottest Brunette Pornstar Strippers
, and
Pornstar with Tattoos Strippers
.
Keisha Grey Biography Summary
Keisha Grey was born in Tampa, Florida on 9/Jun/1994 which makes her a Gemini. Her measurements are 32DD-25-34, she weighs in at 114 lbs (52 kg) and stands at 5'3″ (160 cm). Her body is average with real/natural 32E ripe tits. She has bright brown eyes and pretty brown hair.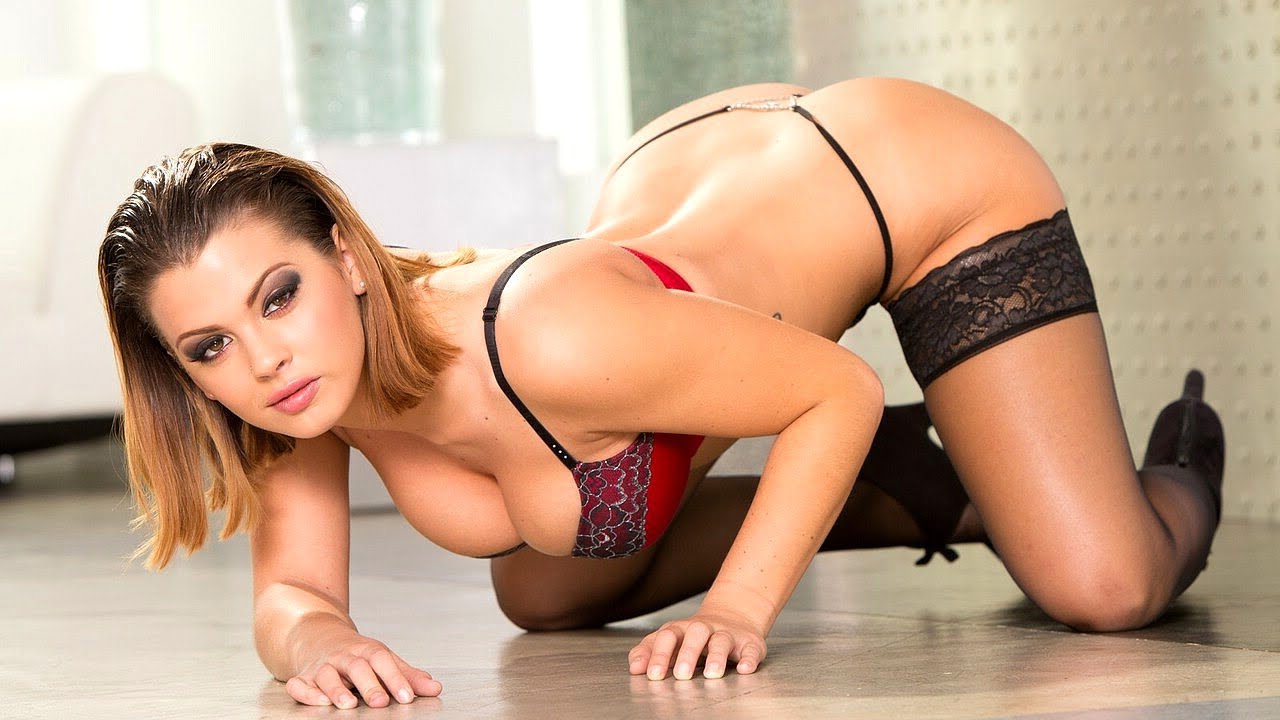 2020 Award Wins and Nominations
XCritic Awards – Nominee: Social Media Queen
2019 Award Wins and Nominations
AVN Awards – Nominee: Best Anal Sex Scene, Natural 2 (2017)
Spank Bank Awards – Nominee: Best Booty
Spank Bank Awards – Nominee: Best DSL (Dick Sucking Lips)
Spank Bank Awards – Nominee: Best Spitter / Drooler
Spank Bank Awards – Nominee: Best Vocals
Spank Bank Awards – Nominee: Contessa of Cum
Spank Bank Awards – Nominee: Instagram Girl of the Year
Spank Bank Awards – Nominee: Master of Missionary
Spank Bank Awards – Nominee: Naughty Babysitter of the Year
Spank Bank Awards – Nominee: Sharing Is Caring (Cumswapping Cutie of the Year)
2018 Award Wins and Nominations
AVN Awards – Nominee: Best Anal Sex Scene, Dredd (2017)
AVN Awards – Nominee: Best Group Sex Scene, Blacks On Blondes: Chanel, Keisha and Valentina (2017)
AVN Awards – Nominee: Best Solo/Tease Performance, Bounce (2017)
AVN Awards – Nominee: Female Performer of the Year
Inked Awards – Nominee: Scene of the Year, Perfect Natural Breasts 2 (2017)
Nightmoves – Nominee: Best Butt
Spank Bank Awards – Nominee: (Reverse) Cowgirl Connoisseur of the Year
Spank Bank Awards – Nominee: Airtight Angel of the Year
Spank Bank Awards – Nominee: BBC Lover of the Year
Spank Bank Awards – Winner: Best Body Built For Sin
Spank Bank Awards – Nominee: Best DSL (Dick Sucking Lips)
Spank Bank Awards – Nominee: Best 'Just Got Fucked' Hair
Spank Bank Awards – Nominee: Best 'O' Face
Spank Bank Awards – Nominee: Bewitching Brunette of the Year
Spank Bank Awards – Nominee: PAWG of the Year
Spank Bank Awards – Nominee: Sharing Is Caring (Cumswapping Cutie of the Year)
Spank Bank Technical Awards – Winner: Juiciest Thang
XBiz Awards – Nominee: Best Scene – Gonzo Release, Bounce (2017)
XBiz Awards – Nominee: Best Sex Scene – Virtual Reality, Bone Away From Home (2017)
XBiz Awards – Nominee: Female Performer of the Year
2017 Award Wins and Nominations
AVN Awards – Nominee: Best Double Penetration Sex Scene, My DP (2016)
AVN Awards – Winner: Best Group Sex Scene, Orgy Masters 8 (2016)
AVN Awards – Nominee: Best Solo/Tease Performance, Car Wash Girls 3 (2015)
AVN Awards – Nominee: Best Three-Way Sex Scene: G/G/B, Oil Explosion (2016)
AVN Awards – Nominee: Female Performer of the Year
Spank Bank Awards – Nominee: Airtight Angel of the Year
Spank Bank Awards – Nominee: Bad Ass Brunette of the Year
Spank Bank Awards – Winner: Best DSL (Dick Sucking Lips)
Spank Bank Awards – Nominee: Best 'Just Got Fucked' Hair
Spank Bank Awards – Nominee: Best 'Resting Bitch' Face
Spank Bank Awards – Nominee: Cuckold Connoisseur of the Year
Spank Bank Awards – Nominee: DP Dynamo of the Year
Spank Bank Awards – Nominee: Facial Cum Target of the Year
Spank Bank Awards – Nominee: Instagram Girl of the Year
Spank Bank Awards – Nominee: Most Energetic Fuck Bunny
Spank Bank Awards – Nominee: Most Underrated Slut
Spank Bank Awards – Nominee: Most Voluptuous Vixen
Spank Bank Awards – Nominee: PAWG of the Year
Spank Bank Awards – Nominee: Prettiest Whore Mouth
Spank Bank Awards – Nominee: Supreme Majesty of the Stripper Pole
Spank Bank Technical Awards – Winner: Best Natural Puppy Pillows
XBiz Awards – Nominee: Female Performer of the Year
XRCO Awards – Nominee: Female Performer of the Year
XRCO Awards – Nominee: Superslut of the Year
2016 Award Wins and Nominations
AVN Awards – Nominee: Best All-Girl Group Sex Scene, Sisterhood (2015)
AVN Awards – Nominee: Best Anal Sex Scene, Big Anal Asses 3 (2015)
AVN Awards – Winner: Best Group Sex Scene, Gangbang Me 2 (2015)
AVN Awards – Nominee: Best Group Sex Scene, Manuel Ferrara's Reverse Gangbang 3 (2015)
AVN Awards – Nominee: Best Three-Way Sex Scene: G/G/B, Oil Overload 13 (2015)
AVN Awards – Nominee: Fan Award: Favorite Female Porn Star
AVN Awards – Nominee: Fan Award: Most Epic Ass
AVN Awards – Nominee: Female Performer of the Year
Spank Bank Awards – Nominee: Asshole (The Sexy Kind) of the Year
Spank Bank Awards – Winner: Bad Ass Brunette of the Year
Spank Bank Awards – Nominee: BBC Slut of the Year
Spank Bank Awards – Nominee: Best All Around Porn Goddess
Spank Bank Awards – Nominee: Best Booty
Spank Bank Awards – Nominee: Best High Speed DSL (Dick Sucking Lips)
Spank Bank Awards – Nominee: Bionic Butthole
Spank Bank Awards – Nominee: Dirty Little Slut of the Year
Spank Bank Awards – Nominee: Most Spanked To Girl of the Year
Spank Bank Awards – Nominee: Prettiest "Whore Mouth"
Spank Bank Technical Awards – Winner: Best Side Boob
XBiz Awards – Nominee: Female Performer of the Year
XRCO Awards – Nominee: Orgasmic Analist of the Year
2015 Award Wins and Nominations
AVN Awards – Nominee: Best New Starlet
AVN Awards – Nominee: Best Oral Sex Scene, Keisha (2014)
AVN Awards – Nominee: Best Three-Way Sex Scene: G/B/B, Keisha (2014)
AVN Awards – Nominee: Best Three-Way Sex Scene: G/G/B, Keisha (2014)
AVN Awards – Nominee: Fan Award: Cutest Newcomer
Nightmoves – Nominee: Best Boobs
Nightmoves Fan Awards – Nominee: Best Boobs
Spank Bank Awards – Nominee: Best "Come Fuck Me" Eyes
Spank Bank Awards – Winner: Best Body
Spank Bank Awards – Nominee: Best Vocals
Spank Bank Awards – Nominee: Most Beautiful Seductress
Spank Bank Awards – Nominee: Newcummer of the Year
XBiz Awards – Nominee: Best New Starlet
XBiz Awards – Nominee: Best Scene – Non-Feature Release, Slut Puppies 8 (2014)
XRCO Awards – Nominee: Cream Dream of the Year
XRCO Awards – Nominee: New Starlet of the Year
2014 Award Wins and Nominations
Nightmoves – Nominee: Best Body
Nightmoves – Winner: Best New Starlet
Nightmoves Fan Awards – Nominee: Best Body
Nightmoves Fan Awards – Nominee: Best New Starlet
Keisha Grey Biography References