5'8″ / 114 lbs

32C-26-34

Light Brown / Green

34 Years Old
This Tina Kay biography highlights some of of the incredible qualties of this positively gorgeous hottie.
It is a rare thing indeed to find anyone as goofy and excitable yet as saucy and seductive as Tina Kay. A tramp haired fox with breathtaking eyes, Tina is covered in tattoos, and likes to experience the finer things in life.
When the demand for her duration and attention grew too big for a simple cam site, Tina brought her angelic brand of sexuality to the masses in the form of full-fledged porn.
Joining the smut biz for the rush of it all, Tina loves to live life to the fullest whether that's boating in the sun or just relaxing by the pool. Now, with an ever-expanding fan base watching her every move, Tina Kay is ready to take the smut world by storm. With a round and firm booty, alluring nips, and an insatiable appetite for cum, this stunning beauty is one of the best pornstar strippers.
Tina explains that as a Gemini with a dualistic nature, I can go and have the most serene day, but by night, I might be a siren.
When Tina initially broke into the porn scene, she was 26 years old. She has been in the porn business for 8 years and has screwed in over 667 porn performances.
Tina Kay is featured on
Best Anal Pornstar Strippers
,
Best British Pornstar Strippers
,
Best Pornstar Boobs Strippers
, and
Most Beautiful Pornstar Strippers
.
Tina Kay Biography Summary
Tina Kay was born in Lithuania on 23/Apr/1985 which makes her a Taurus. Her measurements are 32C-26-34, she weighs in at 114 lbs (52 kg) and stands at 5'8″ (173 cm). Her body is slim with real/natural 32D perfect tits. She has lustful green eyes and silky light brown hair.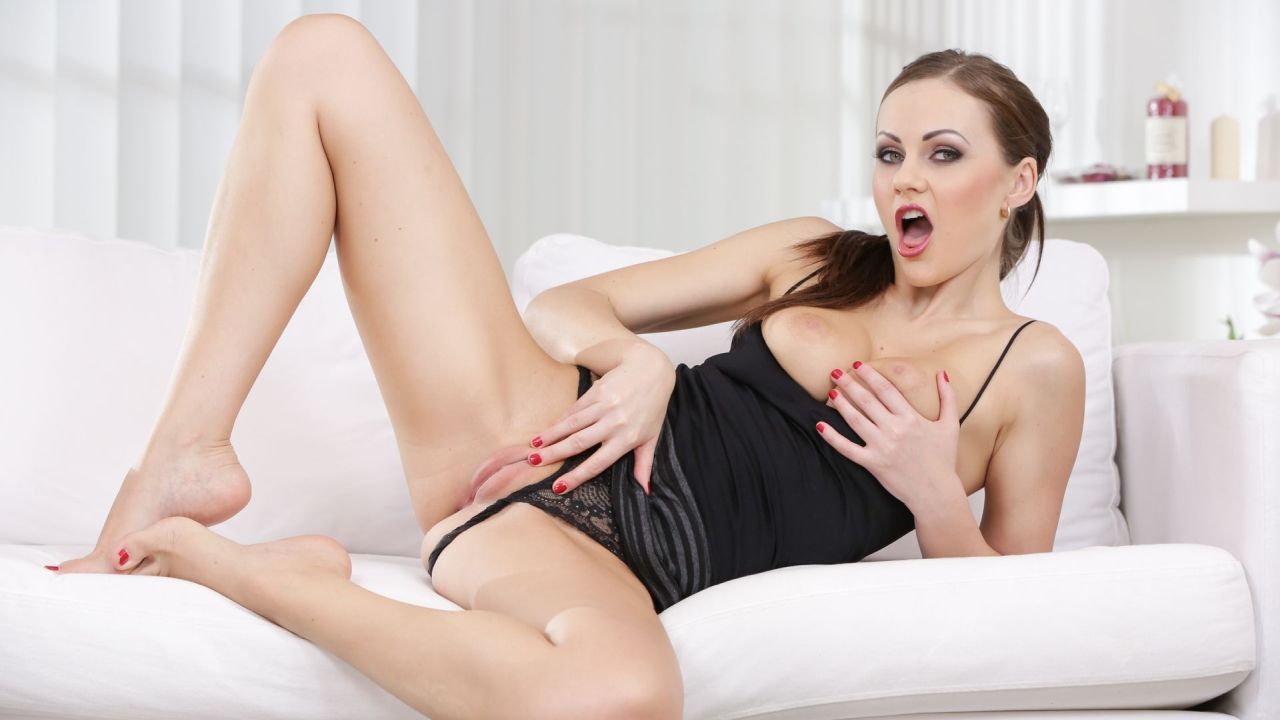 2022 Award Wins and Nominations
AVN Awards – Nominee: Best International Group Sex Scene, Russian Institute 26: La fille de la directrice (2020)
AVN Awards – Nominee: Best International Lesbian Sex Scene, Guilty Idea 1 (2020)
AVN Awards – Nominee: International Female Performer of the Year
2021 Award Wins and Nominations
AVN Awards – Nominee: Best Foreign-Shot Anal Sex Scene, No Mercy For Mankind (2019)
AVN Awards – Nominee: Best Foreign-Shot Boy/Girl Sex Scene, Sunday (2019)
AVN Awards – Nominee: Female Foreign Performer of the Year
XBiz Europa Awards – Nominee: Best Acting, Devil In Disguise (2021)
XBiz Europa Awards – Nominee: Best Sex Scene – Feature Movie, Sunday (2019)
XBiz Europa Awards – Nominee: Best Sex Scene – Feature Movie, Devil In Disguise (2021)
XBiz Europa Awards – Nominee: Best Sex Scene – Feature Movie, Love, etc (2021)
XBiz Europa Awards – Nominee: Best Sex Scene – Glamcore, Stars 3 (2020)
XBiz Europa Awards – Nominee: Best Sex Scene – Lesbian, Guilty Idea 1 (2020)
XBiz Europa Awards – Nominee: Female Performer of the Year
2020 Award Wins and Nominations
AVN Awards – Nominee: Best Foreign-Shot All-Girl Sex Scene, Dangerous Women (2019)
AVN Awards – Nominee: Best Foreign-Shot Anal Sex Scene, Rocco's Time Master: Sex Witches (2019)
AVN Awards – Nominee: Fan Award: Most Spectacular Boobs
AVN Awards – Nominee: Female Foreign Performer of the Year
Spank Bank Awards – Nominee: European Enchantress of the Year
Spank Bank Awards – Nominee: Puppeteer of the Year (Best Hands/Fister)
XBiz Awards – Winner: Foreign Female Performer of the Year
XBIZ Europa Awards – Nominee: Best Sex Scene – Feature Movie, No Mercy For Mankind (2019)
XBIZ Europa Awards – Nominee: Best Sex Scene – Glamcore, Step Too Far (2020)
XBIZ Europa Awards – Nominee: Best Sex Scene – Gonzo, Harmony's Extreme (2020)
XBIZ Europa Awards – Nominee: Best Sex Scene – Gonzo, Anal Virtue (2020)
XBIZ Europa Awards – Nominee: Best Sex Scene – Gonzo, FantASStic DP 33 (2019)
XBIZ Europa Awards – Nominee: Best Sex Scene – Lesbian, So Wet Beside Her (2019)
XBIZ Europa Awards – Nominee: Best Sex Scene – Lesbian, Taste of a Woman (2019)
XBIZ Europa Awards – Nominee: Best Sex Scene – Lesbian, Jasmine Jae Sex Addict (2020)
XBIZ Europa Awards – Nominee: Best Sex Scene – Lesbian, Wet Holes (2020)
XBIZ Europa Awards – Nominee: Female Performer of the Year
2019 Award Wins and Nominations
AVN Awards – Nominee: Best Foreign-Shot All-Girl Sex Scene, Tina Sex Addict (2018)
AVN Awards – Nominee: Best Foreign-Shot Anal Sex Scene, Tina Sex Addict (2018)
AVN Awards – Nominee: Best Foreign-Shot Group Sex Scene, Ticket d'Or (2018)
AVN Awards – Nominee: Female Foreign Performer of the Year
XBiz Awards – Nominee: Best Sex Scene – Feature Movie, Poon Raider: A DP XXX Parody (2018)
XBIZ Europa Awards – Nominee: Best Sex Scene – Feature Movie, Girls with Guns (2018)
XBIZ Europa Awards – Nominee: Best Sex Scene – Feature Movie, Dangerous Women (2019)
XBIZ Europa Awards – Winner: Best Sex Scene – Lesbian, Taste of a Woman (2019)
XBIZ Europa Awards – Nominee: Best Sex Scene – Lesbian, So Wet Beside Her (2019)
XBIZ Europa Awards – Nominee: Female Performer of the Year
XBIZ Europa Awards – Nominee: Female Performer of the Year
2018 Award Wins and Nominations
Spank Bank Awards – Nominee: European Enchantress of the Year
Spank Bank Awards – Nominee: Most Fuckable Feet
Spank Bank Awards – Nominee: Most Underrated Slut
Spank Bank Technical Awards – Winner: Sexiest Accent While Being Buttfucked
XBiz Awards – Nominee: Foreign Female Performer of the Year
2017 Award Wins and Nominations
Spank Bank Awards – Nominee: Imported Enchantress of the Year
Spank Bank Awards – Nominee: Life Sized Human Hand Puppet (aka Best Fistee)
Spank Bank Awards – Nominee: Masturbator of the Year
Spank Bank Awards – Nominee: Most Fuckable Feet
2016 Award Wins and Nominations
AVN Awards – Nominee: Best Sex Scene in a Foreign-Shot Production, League of Frankenstein (2015)
2014 Award Wins and Nominations
UKAP Awards – Winner: Female Performer of the Year
Tina Kay Biography References